Panel Discussion: The Future of the Organ in Contemporary Worship
Joseph Scolastico, Moderator
Four professional organists and music directors—with backgrounds in traditional, blended, hybrid, and emerging styles of music in their worship services—discuss the organ in contemporary worship.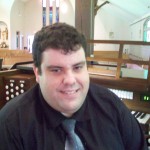 Joseph Scolastico is an organist and church musician from Weymouth, Massachusetts. Although involved in church music since middle school, it was while singing in the Schola Cantorum at the College of the Holy Cross, under James David Christie, that he found his passion for the field. After earning his Bachelor of Arts in music at Holy Cross, in 2006, he went on to obtain a Master in Music Education, in 2008, at The Boston Conservatory, where he met his organ teacher, Dr. Richard Bunbury. Mr. Scolastico has been active as a musician in the Archdiocese of Boston. Currently, he is an organist at historic St. Stephen's Church in Boston's North End, and music director at St. Mary of the Assumption Parish in Hull, Massachusetts. He is also a member of the American Guild of Organists and served on the Workshops Committee for this convention.
Ed Broms, dubbed a true "Renaissance Man" by The Boston Globe, has been a mainstay of the Boston and New York City music scenes since 1984. A multi-instrumentalist, he performs on electric and acoustic bass, voice, Hammond organ, pipe organ, piano, keyboards, guitar, and percussion in myriad styles, each of which he makes uniquely his own. He is currently music director, choir director, and organist at the Cathedral Church of St. Paul, Boston (Episcopal), where he leads an eclectic program of world sacred music and directs three professional choral ensembles: The Cathedral Scholars, a classical octet; Blessed, a gospel choir; and Cantorum, a multi-faceted vocal quartet. He is on the piano faculty at South Shore Conservatory in Hingham, Massachusetts, and co-chair of the Jazz, Rock and Pop Department. He is also a faculty member at Eastern Nazarene College, where he teaches jazz and improvisation for bassists and pianists.
Richard J. Clark has served for twenty-four years as director of music and organist at St. Cecilia Church in Boston. He is also St. Mary's Chapel organist at Boston College. Born in Greenwich Village, New York City, his eclectic appearances include Celebrity Series of Boston, CanticaNOVA Publications, the Boston Philharmonic, Jive Records, EMI Recording artist John McDermott, and the New York Songwriter Circle at the historic Bitter End in Greenwich Village. He has been a guest artist and lecturer in the Berklee College of Music Composition Department. He is a graduate of the Berklee College of Music and The Boston Conservatory, where he earned a master's degree in organ performance, studying with James David Christie. His compositions have been performed on four continents, notably by the American Boychoir. His compositions, and the Choir of St. Cecilia Church, have also been featured on Dr. Jennifer Pascual's Sounds from the Spires.
Bernadette Colley has directed church music programs for more than twenty-five years for Lutheran, UCC, and Episcopal denominations, and is currently director of music at Church of Our Redeemer Episcopal, Lexington, Massachusetts. Her work is marked by diverse musical styles and genres, from Palestrina to Dixieland, and enhanced by guest musicians, ranging from the Renaissonics to the Revolutionary Snake Ensemble. She holds bachelor's, master's, and doctoral degrees from Syracuse, McGill, and Harvard universities, respectively, in applied voice, keyboard, and arts education. From 2009 through 2011, she was advisor to Matimba ya Ripfumelo, a New England-based South African vocal ensemble that presented concerts throughout New England to raise money for vulnerable children in South Africa. She was associate professor of music education at Boston University from 2003 through 2011, and is founder and principal of Colley Consulting (www.colleyconsulting.com), a research consultancy specializing in arts education policy design since 1989.