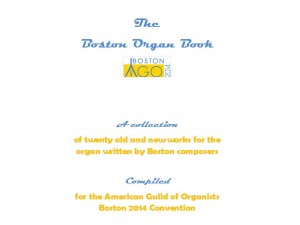 All registrants of the American Guild of Organists 2014 National Convention will receive a copy of the Boston Organ Book, or "BOB." The book is a collection of twenty exquisite compositions for organ, some new and some old—most of which are otherwise unavailable.
Half of these works are by venerable Boston-area composers of generations past. Representing Boston's unique heritage as an incubator for organ art and organ craftsmanship in our country, these delightful pieces by Daniel Pinkham, Theodore Marier, Max Miller, and others are lost treasures that deserve performance in today's world.
Alongside these older works appear a collection of newly composed, previously unpublished pieces—each selected for inclusion from amongst the 2014 convention's fourteen commissioned composers. Included are works by Libby Larsen, Carson Cooman, Robert Sirota, and Hilary Tann.
The musical gems in this collection are selected for inclusion with a degree of practicality in mind: each is moderate in both length and difficulty, and all are useful in church services, performance, and instruction.
The Boston Steering Committee hopes every convention-goer will find this a useful, valued addition to a functional organ library!
Be sure to come to Boston in June—the Boston Organ Book is available only to convention attendees. And, best of all, it's free!